store arrival-2021.2.27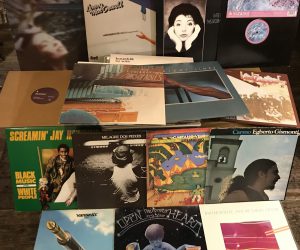 ◆store arrrival
milton nascimento
/ milagre dos peixes
gravado ao vivo 2LP
egberto gismonti / carmo LP
caetano veloso / estrangeiro LP
benjamin lew & steven brown
/ a propos d'un paysage LP
led zeppelin / Ⅱ LP
king crimson
/ starless and bible black LP
vangelis / spiral LP
joni mitchell / miles of aisles 2LP
bob dylan / desire LP
straight lines / s.t. LP
j.o.b. orquestra
/ open the doors to your heart LP
lenny mac dowell / bird watching LP
screamin' jay hawkins
/ black music for white people LP
pete rock / petestrumentals 2LP
david bowie & pat metheny group
/ this is not america 12″
kate bush / this woman's work 12″
ibizarre
/ homegrown sounds from the island 12″
felix dickinson & nick the record
/ unbreakable 12″
etc..
店頭追加 info.です。
used vinyl LP & 12inch 計約50枚の追加です。
尚、今週の営業日程は
2/27(土)2/28(日)の
14:00-20:00です。
何卒ご了承の程宜しくお願いします。
related